Meat Grinder
The gate to Hell opens! Private prisoner reformation company PrayCo wields an unholy artifact, breaching the walls of reality to a nightmare world of agony and smoldering brimstone. Brave the flesh portal to explore phantasmagoric domains never before tread by mortal souls.
Meat Grinder is an adventure through Hell itself for the Mothership sci-fi horror RPG. It equips the intrepid Warden with everything you need to run a terrifying campaign through roiling fleshscapes, including:

8 infernal locations to explore, pillage and lament.
10+ new wretched monsters to stalk your sessions and dreams.
Quandaries of the soul: diabolic and heavenly faction play.
Temptations of the flesh: hellish mutations, anti-relics and demonic artifacts.
Twisted visions of Hell from illustrator Daniel Vega (aka CODEX NOIRMATIC).
This fully standalone adventure optionally continues the Mothership scenarios Wrath of God and The Drain for a contiguous three-part "Inferno Trilogy" campaign.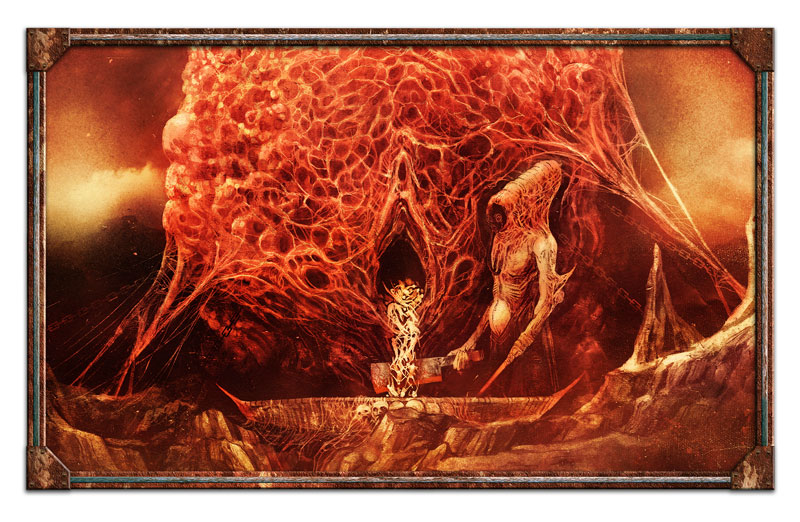 Meat Grinder was inspired by Doom, Quake, Event Horizon, Mystery Flesh Pit National Park and other hellish works.
A 20-page, full color zine table ready for One-Shot excursions or short Campaigns. Easily adapted to your sci-fi RPG of choice.
Written by Sigmacastell
Illustrated by Daniel Vega
Map Illustrations by Sigmacastell
Editing and Development by Ian Yusem
Layout and Design by Meredith Silver
Published by Ian Yusem
Physical Copies
Physical copies of Meat Grinder are now available from Tuesday Knight Games, Exalted Funeral, and Rook's Press.
You can pick up a discounted bundle of the entire Inferno Trilogy from Exalted Funeral!
Purchase
In order to download this adventure you must purchase it at or above the minimum price of $5 USD. You will get access to the following files:
meatgrinder-v1.1_digital.pdf
20 MB